Here in Long Island, New York, we typically only have a healthy four months to enjoy and relax in your backyard pool. What if we told you that you could install a heating system that will not only extend your pool season by two months, but it also saves you money on heating costs. What would that be, you ask? That is a solar pool heating system. These systems allow you to make it comfortable swimming in your heated pool for long stretches throughout the year and are much more cost-efficient than the traditional electric or gas approach. Aside from the costs, a pool solar heating system is relatively easy to install, easy to operate, and has a life expectancy of twenty plus years.  
Why Should You Consider Making the Switch to A Solar Pool Heating System?
There are two primary ways a homeowner would heat their pool, gas, and electric heaters. These heating systems use far much more energy, which therefore cost more to operate. A solar pool system utilizes only solar power derived from the sun to pump water throughout its operation. In comparison to the traditional method, such as an electric heater, not only are there a lot of more moving parts to the process, the energy usage is also needed to power the pump, filter, and other heating elements. For example, according to the Department of Energy, they estimate that using a gas heater will cost a homeowner $1,448 a year to heat an outdoor pool in New York to a temperature of 78 degrees. This cost jumps dramatically to $2,384 a year to heat your pool to 82 degrees. These numbers are based on a 1,000 square foot pool heated from May 1st to September 30th. In addition to the monthly utility fuel costs, the average cost to install a gas pool heater is in the ballpark of $3,000-$5,000. In a solar pool system, the process uses solar energy from the sun to power these systems and thus using far less energy to produce the necessary heat. Some other benefits of the system include.
Extend your pool season by 2 months
Raise pool temperature by 10-15 degrees
Fully automatic
Maintenance-free
10-year full warranty
Made in the USA
How Does A Solar Pool Heating System Work?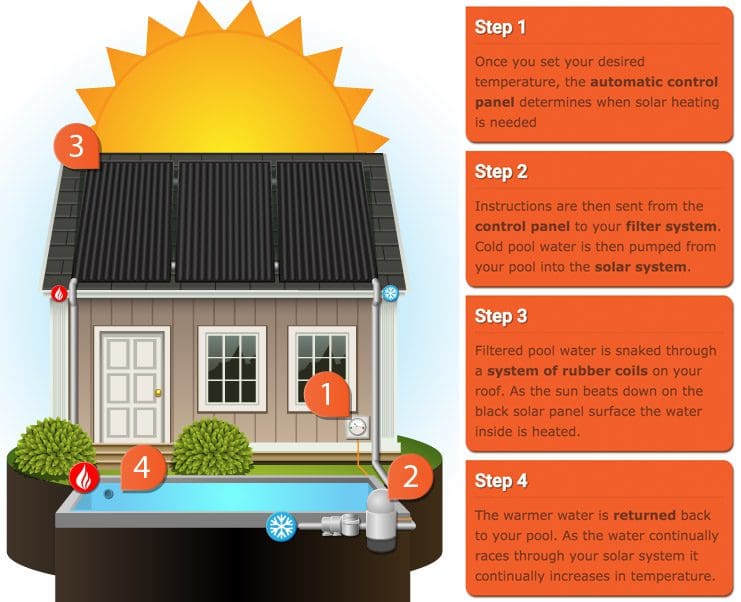 Overall, a pool solar heating system is relatively simple to understand. Upon setting the desired temperature for your pool, an automatic control system determines when the heat is needed for the pool. When your pool goes below the individual temperature threshold instructions are then sent from the control panel to the filter system. Then cold pool water is pumped from your pool through piping into the solar heating system. The filtered pool water is then pumped through the network of black plastic glazed panels on your roof. As the sunbeams on the black solar panel surface, the water inside the panels are heated. Lastly, the warmer water is returned into your pool, and as the more heated water continuously races through the solar panels, it raises the pool temperature.
How Much Space Is Needed to Do A Solar Pool Heating Installation?
Depending on the temperature you desire for your pool will be a factor with how many square feet of solar panels are required. Typically, we recommend that the total square footage of solar panels is equivalent to 50%-80% of the square footage size of the pool's surface. For example, a 16-by-32-foot inground pool has a little over 500 square feet of surface area. Therefore, the pool solar heating system should be 250-400 square feet in size.
What Is the Cost of a Solar Pool Heating Installation?
In all, there are a few factors that will vary for the cost of a solar pool heating installation. From the size of your pool, exposure to sunlight, and desired temperature, to name a few. However, on average, we see the out of pocket costs to be between $4,500-$6,000. As previously mentioned, a gas heater, on average, prices between $1,500-$2,000 to heat your pool just to 80 degrees. With that payment period compared to a solar pool heating system, it would only take two-three years to see a return on your investment! Lastly, with a solar pool heating investment, it comes with a 10-year warranty, and on average, the system's lifespan lasts twenty years or more.
Do you think it is finally time to invest in a solar pool heating system? Give us a call today at 631-422-3500, and one of our team members will be glad to help you.