Mounting systems are fit for your specific wants and needs. As you will see below, systems don't always have to be unsightly. From traditional roof mounted to ground mounted, full size panels to low profile slate panels, we can install the exact system you have in mind.
Conventional Roof Mounted Rail
The most common roof mounted system being installed throughout the country. Panels sit either portrait or landscape style on aluminum rail and are fastened with clamps till tight. Penetrations are into the rafters and are sealed appropriately.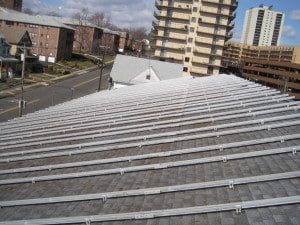 Ground Mounted
No viable space or appropriate direction on your roof? Ground Mounted could be your best option. Secured Firmly into the ground by cement and steel pillars, ground mounted solar systems are an excellent alternative. Sun Tracking Systems can be added and installed as well in these type of systems.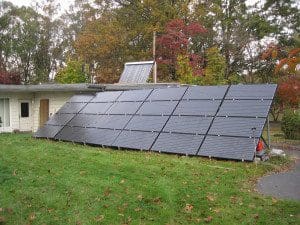 Ez Roof
Need a new roof? No problem! Save more than half on roofing materials with this brand new solar mounting system straight out of France, and we have been fortunate enough to have installed the first few systems so far in the United States. All right here on Long Island!
Roof is stripped bare
Ice & Water Shield is laid
EZ Roof Plastic Panel molds are fastened to the roof creating a water tight seal
Panels are laid onto Molds. Wires are ran
And finally any residual space on the roof not covered by panels is shingled. What is left is a completely watertight, low profile solar system!
Roof Integrated Slate
Prior to Slate modules being produced there was no real surefire way to install a system to a slate roof. These panels are very ascetically pleasing. Blending in seamlessly with the existing roof and they are installed just like normal slate roofing tiles!